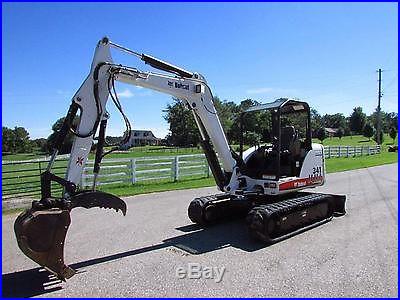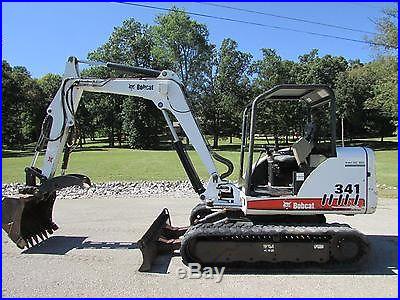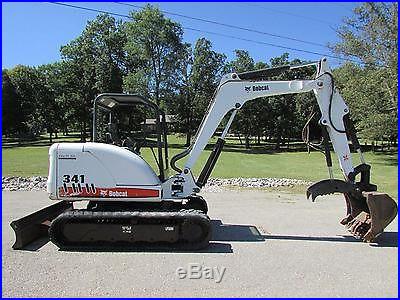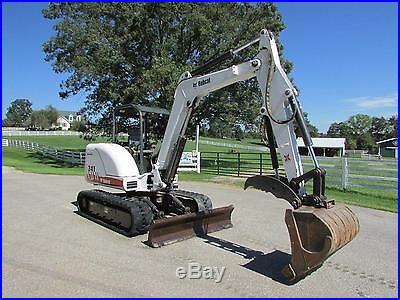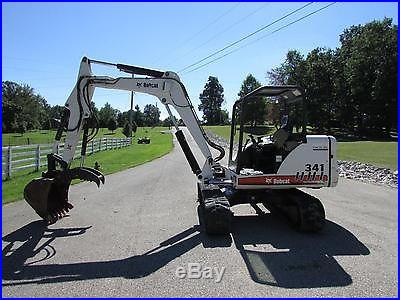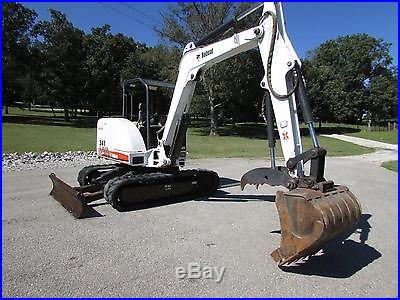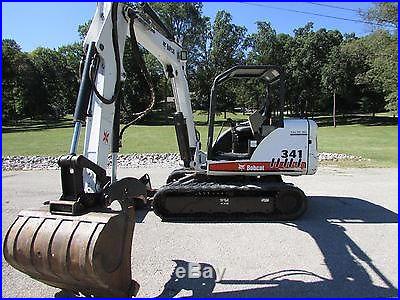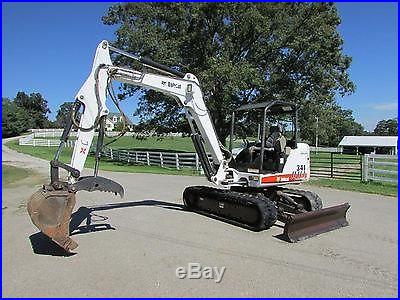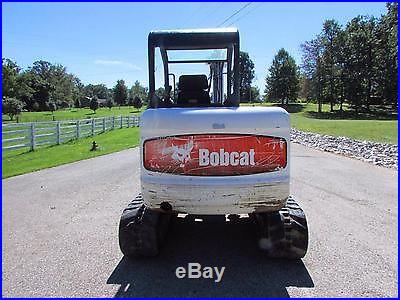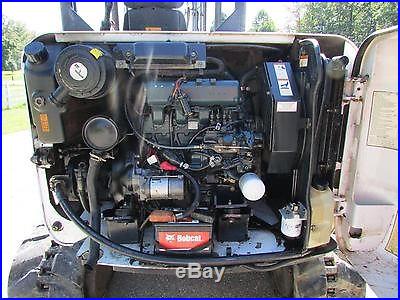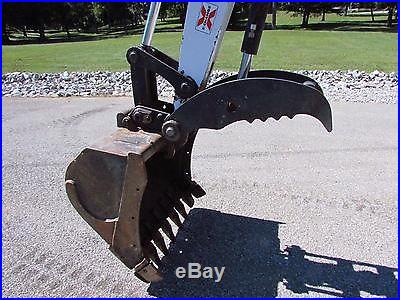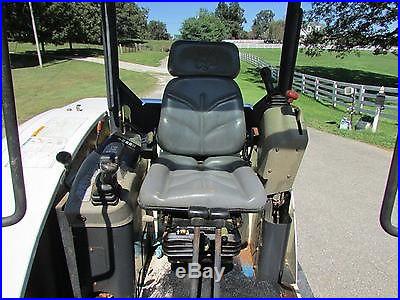 2006 bobcat 341 turbo excavator in excellent , immaculate condition. You will not find a machine in the condition as this machine. All the paint and decals are original and almost look new which reflects how easy a life the machine has had and how well it has been maintained. This is a very large mini excavator that weighs 12,000 pounds and has a dig depth of over 13 feet. This was homeowner owned since new and used to put in swimming pools so has never been in the woods and never used for hard digging. The machine has both the switchable style controls and the 2-speed travel option. It also has the keyless start option which helps prevent theft and loss of keys. There are 3-buckets included with the machine. There is a 12 inch and a 36 inch tooth bucket and also a 24 inch smooth edge grading /ditching bucket. The machine has the bobcat x-change system so changing buckets is a breeze and very quick. The 48 horsepower kubota turbo diesel engine starts and runs perfect and has tons of power.
When you step up to a machine like this , there is no comparison to the smaller machines. This machine is in a league by itself. The engine starts immediately , does not smoke or use any oil , has no leaks , and does not make any unusal noises.
The engine is very clean. The hydraulics on this excavator are massive. Again , it has a dig depth of over 13 feet and has a reach of 20 feet.
Loading trucks also is no problem because the maximum loading height is over 13 feet. There are no hydraulic leaks on the machine anywhere.
All the pins and bushings are tight. It does have a bobcat brand hydraulic thumb which is in excellent condition and works great.
The machine has the switchable style controls which let you operate the machine with caterpillar style (excavator) controls or with john deere style (backhoe) controls. This is easily done and takes less than 2 seconds.
This lets you satisfy any and all operators. The machine tracks and steers perfect. All the drive motors and pumps are very quiet and very powerful. It does have the 2-speed travel so travelling long distances is no problem because this doubles your speed.
All the lights and gauges work as should. You dont see many of these excavators with both lights intact and in working condition. The seat is the high back suspension seat and is in good condition. The keyless start is a great option.
All you do is enter a code and push a button to start. The tracks and undercarriage aree in great condition and dont need anything. The blade is very heavy duty and does have the double hydraulic cylinders. Max vertical wall digging depth. Width to outside of tracks. Length of track on ground. Height to top of cab. We accept only wire transfers.The item "2006 BOBCAT 341 MINI EXCAVATOR 12,000 LB HYDRAULIC THUMB" is in sale since Thursday, November 13, 2014. This item is in the category "Business & Industrial\Heavy Equipment\Excavators". The seller is "olsmsh-8018″ and is located in Provo, Utah. This item can be shipped to United States.
Make: Bobcat
Model Year: 2006
Hours: 3200
Model: 341 TURBO
Serial Number: 234713092
Operating Weight: 12,001 – 13,000 lbs
Max Dig Depth: 13′1" – 14′
Recent searches
https://excavatorsauction org/2014/11/15/2006-bobcat-341-mini-excavator-12000-lb-hydraulic-thumb/